A version of this article was previously published on PharmaPhorum.
Trust in life science companies has fluctuated since the start of the pandemic. The reputation of COVID-19 vaccine makers understandably soared early on, as clinical trials were started and completed in record time, giving hopes to millions of people in lockdown. Since then, inconsistent messaging around the need for booster shots, as well as side effects–no matter how rare–have tarnished their name. Likewise, trust in the overall health sector is currently 2 percentage points below January 2020 levels, and far below (11 percentage points) May 2021 levels. One survey puts the percentage of persons with trust in the pharmaceutical industry in 2021 at only 50% in the UK and Canada, with the corresponding percentage in the US being even lower, at 47%. India currently has the highest percentage of trust, at 80%.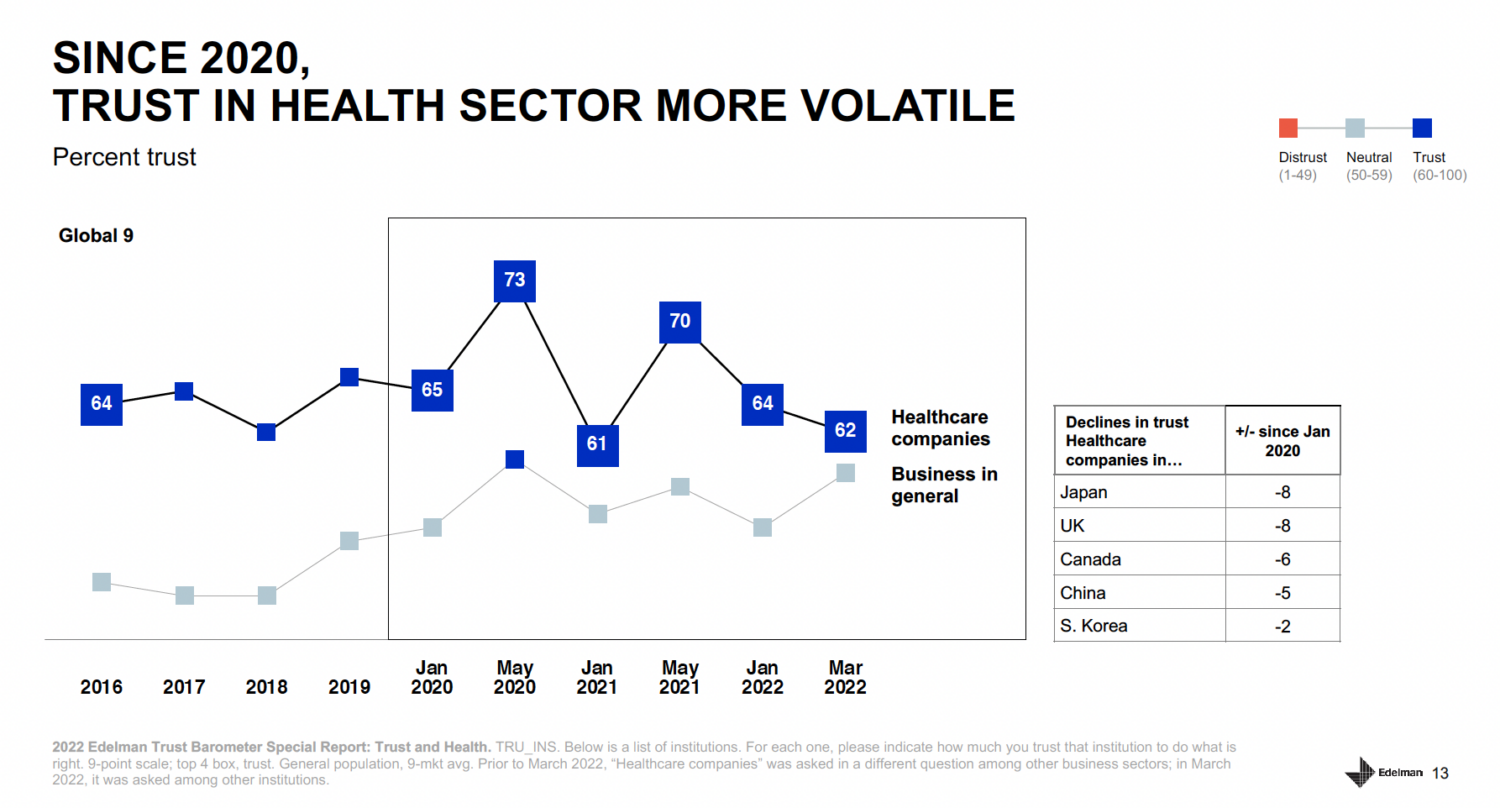 As discussed in an earlier article, COVID-19 has polarised the population when it comes to evidence-based medicine and public health. The latest Edelman Trust Barometer report indicates that, among those who are fully vaccinated, the most trusted source of information about vaccines is their doctor. Among individuals not vaccinated by choice, internet searches ranked as the number one source. There are also differences in trust based on socioeconomic and demographic factors and even political affiliations. Especially, women tend to have more distrust in pharmaceutical companies.
Interestingly, the same report found that trust is a positive determinant of good health behaviors (e.g., partaking in vaccination and preventive medicine), highlighting the importance of trust in Pharma and healthcare.
Transparency: the key to increasing trust?
While it is obvious that trust in life science and healthcare companies is suboptimal, exactly how to improve the public's trust is unclear. Improving health literacy is one piece of the puzzle. Another major piece is transparency. Lack of information, changing health recommendations, and contradictory expert advice all contribute to public mistrust and, as a result, poorer health outcomes. What if, instead of pretending like we have all the answers, we're honest and upfront about the fact that we don't, and instead work together with patients to help them find the information they're looking for?
Of course, we also need to consider where (from who) the information is coming from. Doctors, pharmacists, and other health experts are more trusted than life science CEOs, government leaders, and journalists. Among healthcare institutions, academic medical research institutions are the most trusted. For Pharma, this means that establishing authentic relationships with trusted and approachable physicians, pharmacists, nurses, and academics should be a top priority. In addition to traditional key opinion leaders (KOLs), digital opinion leaders (DOLs)–an emerging group of stakeholders for Pharma to engage with–are well-positioned to share scientific data with the general public. 
Pharma teams should work directly with KOLs and DOLs, as well as with patients and caregivers, to design public-facing videos, websites, handouts, and educational campaigns in order to get the right messages across. When events that might erode public trust do occur (the ongoing opioid crisis immediately comes to mind here), be open and honest with your advisors and get their input on how to respond to negative press in a transparent and sincere manner.
Pharma needs to care about more than just profits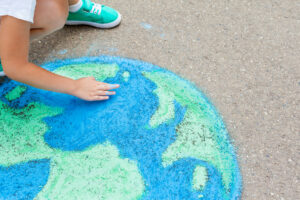 An eye-opening finding from the 2022 Edelman Trust Barometer is that about two-thirds of respondents consider it moderately or very/extremely important for health companies to engage in social issues such as fighting pollution, poverty and income inequality, climate change, the high cost of nutritious foods, and racial injustice. Pharma teams should pick a few issues to focus on, rather than trying to "fix" everything at once. Choose something that relates to your brand(s) or team. Working on a diabetes drug? Tie that in with a program to enhance access to nutritious food. Want to address poverty and income inequality? Look at how your drug pricing and access impact certain demographics and then work from there. Working in the respiratory field? Create public messaging around how climate change and pollution can exacerbate respiratory conditions and then create a program to address these issues.
While gaining the public's trust shouldn't be the main motivation to use your influence and funds for a good cause, it is certainly an attractive side effect. As with all other messaging, transparency and sincerity will go a long way. Most people can see through empty promises; they want hard numbers to back up your words. To ensure that your programs, messaging, and actions align with your customers' values, involve them directly in the co-creation of the program or solicit their feedback through online surveys and consultancies.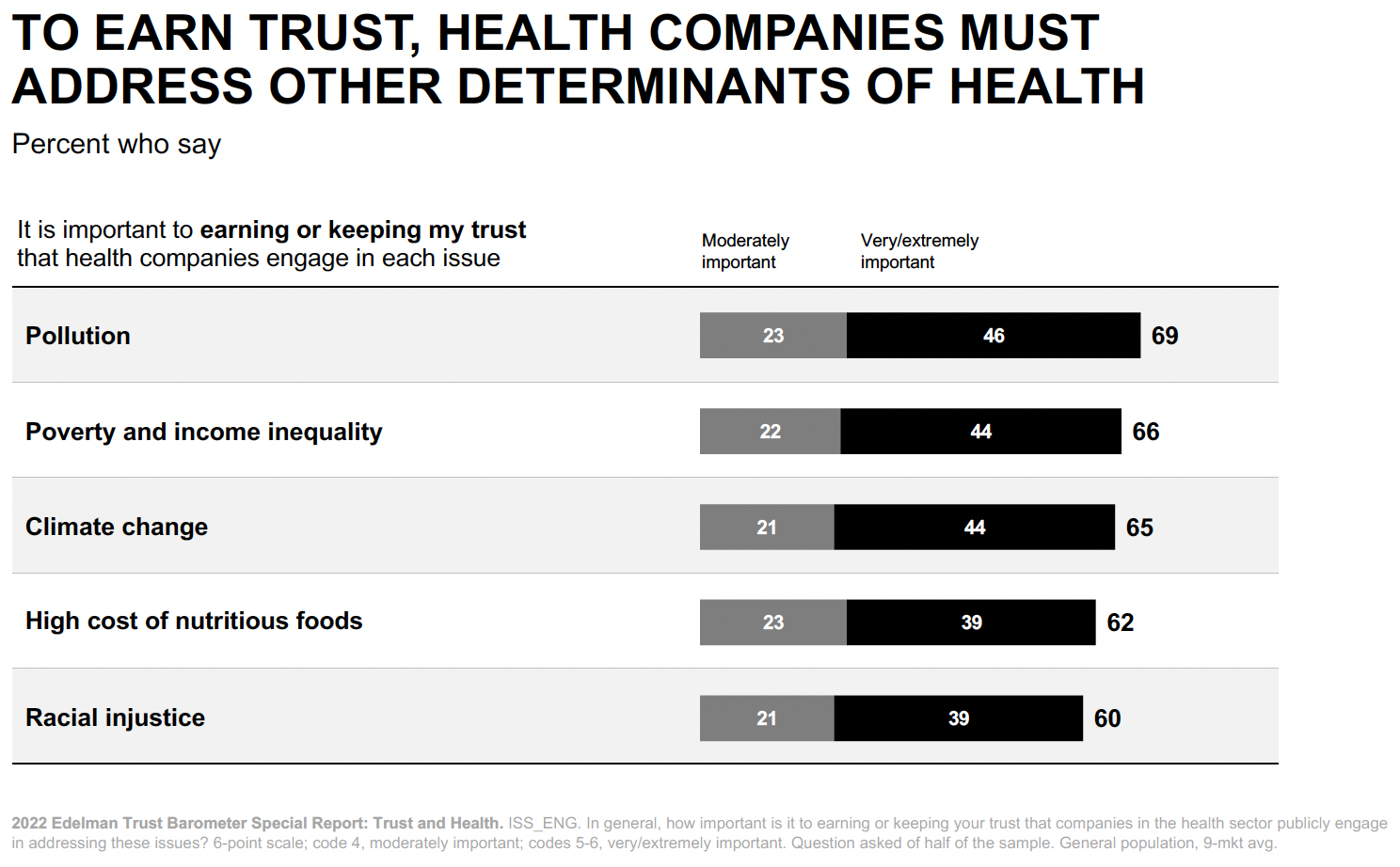 Call to action for life science teams
To build trust, life science companies and teams must make an effort to publicly address societal issues contributing to disparities in health outcomes. Take a public stance and create programs or support movements working for climate justice, income equality, and diversity.
It is also key to build trust on all levels and across the whole health ecosystem. Work with well-known healthcare experts to get the message across globally and nationally; engage well-liked local healthcare providers to disseminate information regionally. Make sure that the information is accessible to people of all ages, in all geographies, and with different levels of tech-savviness. Take into account potential language barriers by making the materials available in multiple languages. Include visually impaired, color-blind, and deaf or hard-of-hearing individuals in the review process to ensure accessibility. 
It really does come down to transparency, authenticity, and a willingness to learn from the people impacted.
References
https://www.edelman.com/trust/2022-trust-barometer
https://www.fiercepharma.com/marketing/from-vaccine-halo-to-liability-reputation-tracker-says-covid-19-shot-makers-now-dinged 
https://www.statista.com/statistics/1071584/trust-levels-towards-pharma-sector-in-select-countries/
https://www.weforum.org/agenda/2022/04/social-contract-pharma-health/ 
https://bmcmedethics.biomedcentral.com/articles/10.1186/s12910-020-00509-y
---