All sizes are in pixels.
LinkedIn personal profiles, optimum image sizes
LinkedIn profile picture size: 400 x 400
LinkedIn banner or background photo size: 1584 x 396
LinkedIn company pages, optimum image sizes
LinkedIn company logo size: 300 x 300
LinkedIn banner / cover photo size: 1128 x 191
LinkedIn posts, optimum image sizes
LinkedIn post single or multi-image: 1080 x 1080 (square) 1920 x 1080 (portrait)
LinkedIn article featured image: 1200 x 644
LinkedIn article banner image: 600 x 322
LinkedIn image sizes for blog post link images: 1200 x 627
LinkedIn carousel post: 1080 x 1080 OR 1920 x 1080
LinkedIn carousel best format: PDF
LinkedIn video size: 256 x 144 (minimum) to 4096 x 2304 (maximum)
LinkedIn video file size: 75KB to 200MB
Maximum LinkedIn video length: 10 minutes
LinkedIn Stories image size: 1080 x 1920
LinkedIn Events, optimum image sizes
LinkedIn event logo size: 300 x 300 – square
LinkedIn event 'banner' size: 16:9 ratio so 1600 x 900 pixels works
LinkedIn Groups, optimum image sizes
·      LinkedIn groups logo size: 300 x 300
LinkedIn groups banner size: 1536 x 768
Avoid using the following words anywhere in your email, whether preheader, subject line or copy:
This email is not a spam
Best price
Cheap
No questions asked
Free
Money
Win
Winner
Rich
Save
Income
Profit
Debt
Weight loss
Apart from the words, the context also matters. As spam filters are getting more advanced, they won't automatically send your emails to spam if they contain words like "discount code" or "claim your offer."
What are spam words?
Spam words are phrases or keywords in your subject line and email copy that email providers mark as malicious or spammy. These words activate the spam filters, causing your emails to land in the user's spam folder instead of their inbox.
Apart from the words, the context also matters. As spam filters are getting more advanced, they won't automatically send your emails to spam if they contain words like "discount code" or "claim your offer." But, you'll be in trouble if you.
Stuff plenty of spammy keywords.
Use lots of emojis exclamations.
Use all capslock, bright red fonts.
The image below reflects the spam words used in the subject line, which is why this email landed in the spam folder. Other than that, in the beginning, the sender is using all caps lock, which is another red flag.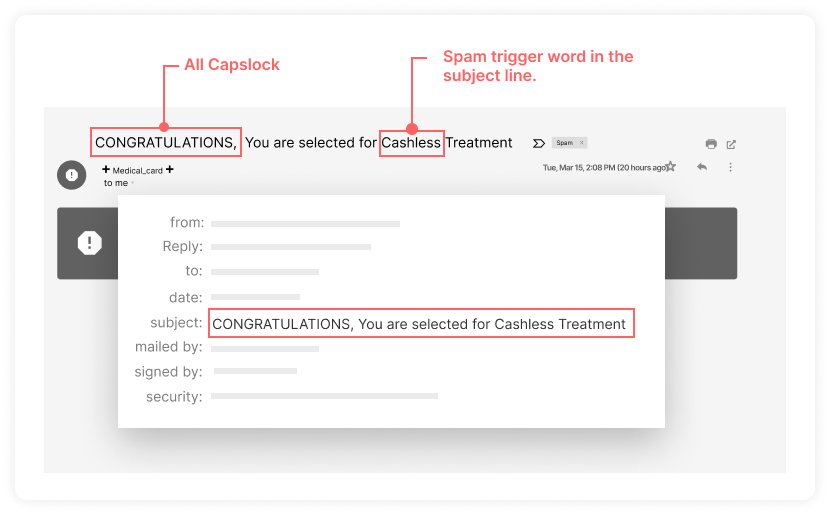 Spam words are just one of many factors which can cause lower email deliverability.
To know about other major reasons, you can read our guide: 9 Reasons Why Your Emails Land in Spam and What You Can Do About it.
284 spam trigger words you should avoid
Here are all the words you must avoid in your email subject line and copy to ensure that you don't get trapped by spam filters.
Symbols or exaggerated numbers
#1
$$$
0%
0% risk
777
99%
99.9%
100%
100% more
100% free
100% satisfied
50% off
Avoid words that create unnecessary urgency
Access for free
Access now
Access right away
Act immediately
Act now
Action required
Apply NOW
Apply Online
At no cost
Buy Now
Buy direct
Cancel at any time
Cancel now
Cancellation required
Claim your discount NOW!
Claim your prize
Click below
Click here
Exclusive deal
Exclusive discount
Exclusive offer
Expiring soon
For instant access
Get it now
Get out of debt
Get out of debt NOW
Get started now
Hurry up
Important information regarding
Instant weight loss
Limited time
Limited time deal
Make $
Make Money
Now only
Offer expires in X days
Once in a lifetime deal
Once in a lifetime opportunity
Once in lifetime
Online biz opportunity
Only for today
Save up to
Sign up free today
Stuff on sale
Supplies are limited
Take action now
Time-limited
Urgent
Vacation offers
Weight loss
While in stock
While you sleep
Avoid using exaggerated claims and a number
100% money back
Best bargain
Best offer
Best price
Big bucks
Double your leads
Double your cash
Double your income
Double your wealth
Earn extra profit
Earn $
Earn extra cash
Earn money
Earn per week
Extra cash
Extra income
Extract email
F r e e
For just X$
For only XXX amount
Free bonus
Free cell phone
Free consultation
Free DVD
Free gift
Free grant money
Free hosting
Free info
Free information
Free installation
Free instant
Free investment
Free iPhone
Free leads
Free membership
Free money
Free preview
Free quote
Free sample
Free trial
Full REFUND
Guaranteed deposit
Guaranteed income
Guaranteed payment
Huge discount
Incredible deal
Instant earnings
Instant income
Instant offers
JACKPOT
Lose weight
Lose weight instantly
Lowest price
Lowest price ever
Money back
Money making
Money-back guarantee
Potential earnings
Recover your debt
Recover your debt instantly
Satisfaction guaranteed
Save $
Save Big Money
Serious cash
Subject to cash
They keep your Money — no refund!
Unlimited
Work at home
Work from home
You are a winner!
You have been chosen
You have been selected
You will not believe your eyes
Zero chance
Zero percent
Zero risk
Avoid words that make your sound spammy or too salesy
Affordable
Auto email removal
Bargain
Cheap
Claims
Claims not to be selling anything
Claims to be in accordance with some spam law
Claims to be legal
Clearance
Compare rates
Confidential
Confidentially on all orders
Deal breaker
Dig up dirt on friends
Don't delete
Don't hesitate
Easy terms
Explode your business
Fast cash
Free access
Hidden assets
Hidden charges
Info you requested
Information you requested
Join millions
Junk
Loan approved
Loans
Mass email
Never before
New customers only
No extra cost
No hidden costs
No interests
No medical exams
No middleman
No risk
No strings attached
Not intended
Not junk
Not spam
Open this email!
Please read
Priority mail
Prize
Profits
Promise
Pure profits
Requires initial investment
Risk-free
Save big money
Sent in compliance
Special discount
Special promotion
Strong buy
This isn't a scam
This isn't junk
This isn't spam
This won't last
Undisclosed
Undisclosed recipient
We hate spam
We honor all
Finance related spam words
Accept credit cards
Additional income
Avoid bankruptcy
Beneficiary
Billing
Billing address
BONUS
Bonus credited
Buying judgments
Cash bonus
Cashcashcash
Cashless
Check credited
Consolidate debt
Consolidate debt and credit
Cost
Credit
Eliminate bad credit
Eliminate debt
Income from home
Investment decision
Low insurance premium
Low mortgage rates
Lower interest rate
Lower monthly payment
Lower rates
Lower your mortgage rate
Lowest insurance rates
Million dollars
Outstanding amount
Outstanding values
Pennies a day
Stock alert
Stock disclaimer statement
Stock pick
Unsecured credit
Unsecured debt
Unsolicited
XXX amount credited
XXX$ credited
Others
Be your own boss
Brand new pager
Casino
Compete for your business
Congratulations
Credit card offers
Home employment
Home-based business
Legal
Legal notice
Marketing solutions
Meet singles
Meet women
Miracle
Month trial offer
Mortgage
New domain extensions
Obligation
Order shipped by
Order status
Orders shipped by the shopper
Passwords
Purchase
Removal
Removes wrinkles
Reverses aging
Rolex
Round the world
Score with babes
Section 301
Shopping spree
Social security number
Terms and conditions
University diplomas
Valium
Viagra
VIP
What's keeping you?