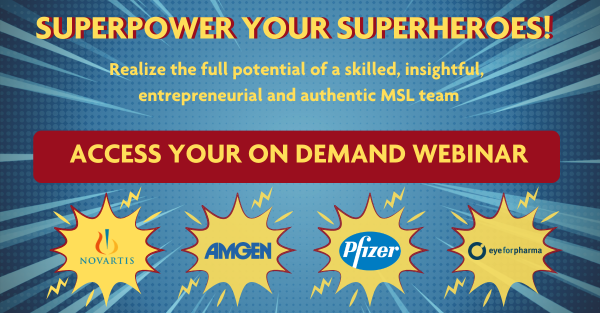 Dear Colleague
52% medical affairs experts believe that medical integrity is maintained in their organization – but is increasingly being influenced commercially. Of these 300+ industry experts surveyed during a recent eyeforpharma webinar, only 13% said their MSLs are prioritized and well-funded.
To understand the evolving role of MSLs, specialists in Medical Affairs and MSL capability development joined us for 60 minutes of discussion, including analysis of these survey results, in our webinar Superpower your Superheroes: Realize the full potential of a skilled, insightful, entrepreneurial and authentic MSL team.
Listen to hear from these expert speakers:
Emma Booth, Director Medical Capabilities, EU Medical, Amgen
Andres Stern, Medical Excellence Director, Region Europe, Novartis
Eddie Power, Vice President, North America Medical Affairs, Hospital Business, Pfizer
Thanks to James Mackintosh from eyeforpharma for sharing this with us. If you would like more information, please contact him at 
jmackintosh@eyeforpharma.com
.
Best regards,